Dominica is a Democratic Governed Country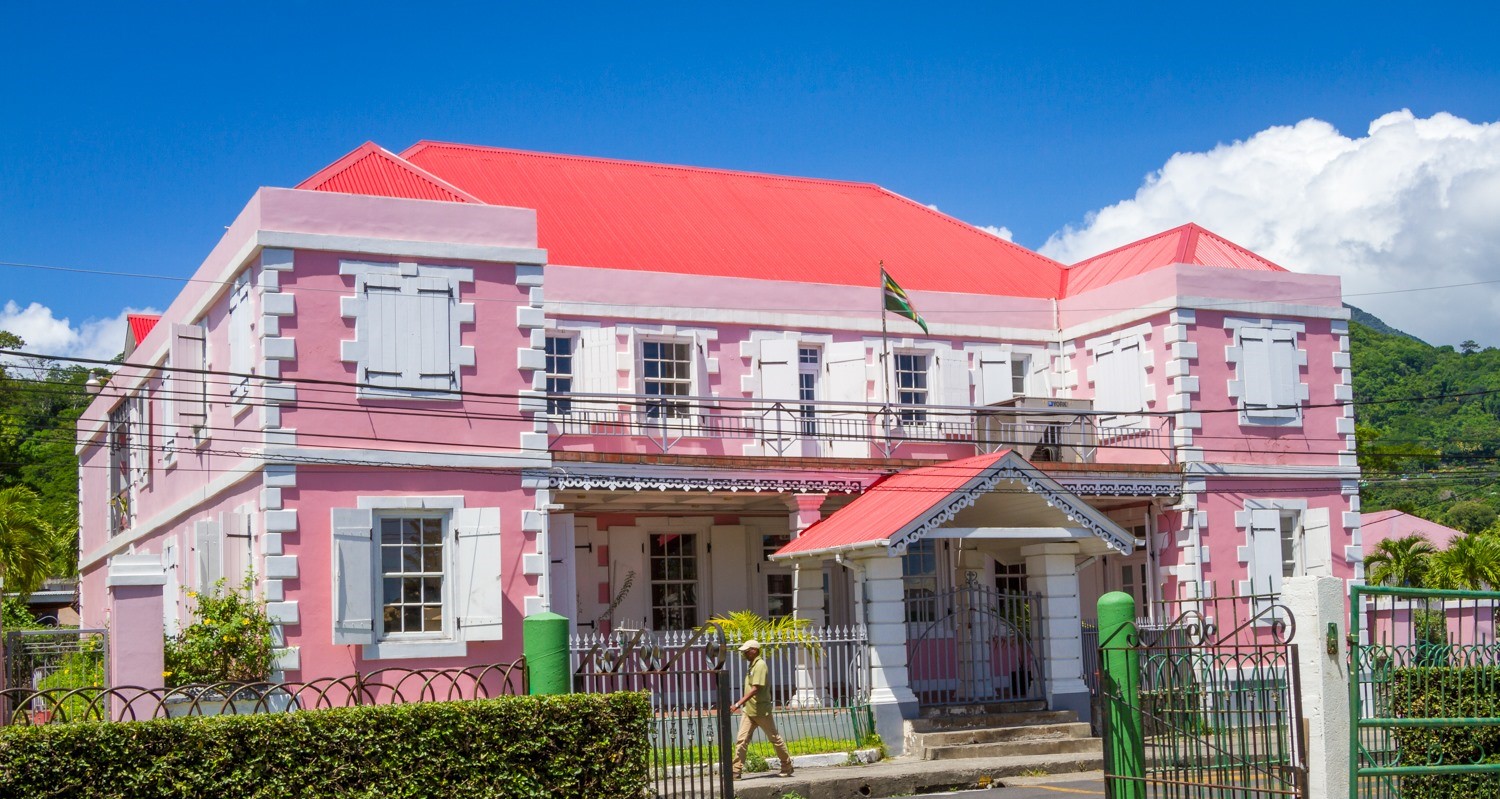 Dominica has one of the most politically stable governments in the world and is ranked highly for sustainability, freedom and lack of corruption. Formerly a republic within the British Commonwealth, Dominica attained independence on November 3rd, 1978. Dominica has since flourished as a democracy which is patterned after the British parliamentary system.
Democratic elections are held every five years in order to determine the people's choice for government. Dominica functions with a President as Head of State, elected by the House of Assembly for a five-year term. The President appoints the Prime Minister, the elected member of the House of Assembly who commands the support of the majority of its elected members.
The President also appoints other ministers of government on the advice of the Prime Minister. Although executive authority is vested in the President, he heeds to the advice of the Cabinet and acts as a constitutional Head of State. Dominica has had a smooth transition of leaders across political party lines since its independence.
The current operating structure of Government is listed below:
President: His Excellency Charles Angelo Savarin (Head of State)
Prime Minister: Honourable Roosevelt Skerrit (Head of Government)
Current Government: Dominica Labour Party
Leader of the Opposition: Honourable Lennox Linton
Other Political Parties: United Workers Party and Do
To learn more about the Government, visit their website.
MINISTRY CONTACTS
Click here for a list of Ministries. Open the links to view minister contact information, the services they provide and to obtain their contact information.
CONSULAR REPS. OF FOREIGN GOVERNMENTS
PEOPLE'S REPUBLIC OF CHINA
His Excellency Lin Xianjiang
Ambassador
Embassy of the People's Republic of China
Morne Daniel
P.O. Box 224, Roseau
COMMONWEALTH OF DOMINICA
Tel: 1 767 449 0198
Email: chinaemb_dm@mfa.gov.cn
Emb.dmnk@gamil.com
BOLIVARIAN REPUBLIC OF VENEZUELA
His Excellency Jose Moros Savelli
Ambassador
Embassy of the Bolivarian Republic of
Venezuela
13 Victoria Street
P.O. Box 770, Roseau
COMMONWEALTH OF DOMINICA
Tel: 1 767 448 3348
Email: embve.dmcop@mppre.gob.ve
REPUBLIC OF CUBA
His Excellency Ulises Arrans Fernandez
Ambassador
Embassy of the Republic of Cuba
Morne Daniel
COMMONWEALTH OF DOMINICA
Tel: 1 767 449 0727
Email: cubanembassy@cwdom.dm
HIS EXCELLENCY MATTHEW J. WALTER
Ambassador to the Republic of Cuba
Embassy of the Commonwealth of Dominica
Calle 36 # 507
Entre 5ta Ave y 7ma
Miramar, Havana
REPUBLUC OF CUBA
Tel: 011 837 214 1096
Email: embassyofdominica@gmail.com
HER EXCELLENCY LOREEN BANNIS ROBERTS
Ambassador Extraordinary and Plenipotentiary
Permanent Representative to the United Nations
Permanent Mission of the Commonwealth of Dominica to the United Nations
Suite 400E
800 Second Avenue
New York, N Y 10017
UNITED STATES OF AMERICA
Tel: 212 599 8478
Email: domun@onecommonwealth.org
MR. DESMOND SIMON
Chargé d'Affaires
Embassies of the Eastern Caribbean States
And Missions to the European Communities
42 Rue de Livourne
1050 Brussels
BELGIUM
Tel: 011 02 534 2611
011 322 534 2611
011 02 544 1802
Email: ecs.embassies@oecs.org
HIS EXCELLENCY MARTIN CHARLES
Ambassador Extraordinary and Plenipotentiary to the People's Republic of China Embassy of the Commonwealth of Dominica
2-2-62 Jianwai Diplomatic Compound
Chaoyang District
Beijing 100600
PEOPLE'S REPUBLIC OF CHINA
Tel: +86 137 1894 1809 (cell)
Email: mcharles600@yahoo.com
HIS EXCELLENCY HUBERT CHARLES
Ambassador Extraordinary and Plenipotentiary to UAE Embassy of the Commonwealth of Dominica
13-B, 2nd Floor
Plaza 30, 100 A1 Ladeem St.
Al Nahyan Area, Abu Dhabi
UNITED ARAB EMIRTES
Tel: +971 2 644 2163
Email: embassyuae@dominica.gov.dm
MS. JANET CHARLES
Acting High Commissioner
Dominica High Commission
1 Collingham Gardens
London SW5 OHW
ENGLAND
Tel: 011 44 207 370 5194
Email: info@dominicahighcommission.co.uk
BELGIUM
Miss Jacqueline Dupigny
Honorary Consul of Belgium
Cartwheel Café, Roseau
COMMONWEALTH OF DOMINICA
Tel: 1 767 448 2168/3012
Fax No.: 1 767 448 6808
TRINIDAD AND TOBAGO
Mr. Francis A. Emanuel
Honorary Consul of Trinidad and Tobago
56 Federation Drive, Goodwill
COMMONWEALTH OF DOMINICA
Tel: 1 767 448 2155
UNITED KINGDOM
Mrs. Justina Alexander
Honorary Consul of the United Kingdom
Lifeline Ministries
3 Munro Street, Goodwill
P. O. Box 1972, Roseau
COMMONWEALTH OF DOMINICA
Tel: 1 767 449-8593
Fax No.: (767) 440-2340
FINLAND
Mrs. Heather Felix-Evans
Honorary Consul of Finland
VeRu's House
54 Hillsborough Street
P. O. Box 1595, Roseau
COMMONWEALTH OF DOMINICA
Tel: 1 767 440-0816
767 440-6901
Mobile: 1767 235-7680
Email: felixevans@optimumlegal.dm
attorney@optimumlegal.dm
THE KINGDOM OF THE NETHERLANDS
Ms. Genevieve M. Astaphan
Honorary Consul of The Netherlands
65 King George V Street
P. O. Box 75, Roseau
COMMONWEALTH OF DOMINICA
Tel: 1 767 448 3221/38 41
Fax. No.: (767) 448 3124/ 1977
Mobile 1 767 616 8669/275 1919
Satellite PH +881631829873
Email: DOMINICA@nlconsulate.com
REPUBLIC OF KOREA
Mr. Karl Nassief
Honorary Consul of the Republic of Korea
Belfast Housing Development
P. O. Box 40, Roseau
COMMONWEALTH OF DOMINICA
Tel: 1 767 448-2886
Cell: 1 767 235 5275
Email: karlnassief@autotrade.dm
FRANCE
Mr. Herve Nizard
Honorary Consul of France
c/o Alliance Francaise
Elmshall, Roseau
COMMONWEALTH OF DOMINICA
Tel: 1 767 448-4557
Fax: 1 767 448-6008
SWEDEN & NORWAY
Mr. Damian A. Whitchurch Aird
Honorary Consul of Sweden
C/o H.H.V. Whitchurch & Co.
71 Old Street
P.O. Box 771, Roseau
COMMONWEALTH OF DOMINICA
Tel: 1 767 448 2181
Cell: 7 767 235 9593
Email: damian.whitchurch-aird@whitchurch.com
SWITZERLAND
Mr. Andreas Burkard
Honorary Consul of Switzerland
Upper Guillet
Savanne Paille, Portsmouth
COMMONWEALTH OF DOMINICA
Tel: 1 767 445-4501
Cell: 1 767 235 8424
Email: burkarda@cwdom.dm
JAPAN
Mr. Gerard Cools-Lartigue
Honorary Consul of Japan
1 Margaret's Gap
Goodwill
P. O. Box 1097,Roseau
COMMONWEALTH OF DOMINICA
Tel: 1 767 235 4060
Email: cools-lartigueg@gmail.com
MEXICO
Mr. Jeffrey Baptiste
Honorary Consul of Mexico
Flow
Old Street, Roseau
COMMONWEALTH OF DOMINICA
Tel: 1 767 235 1244